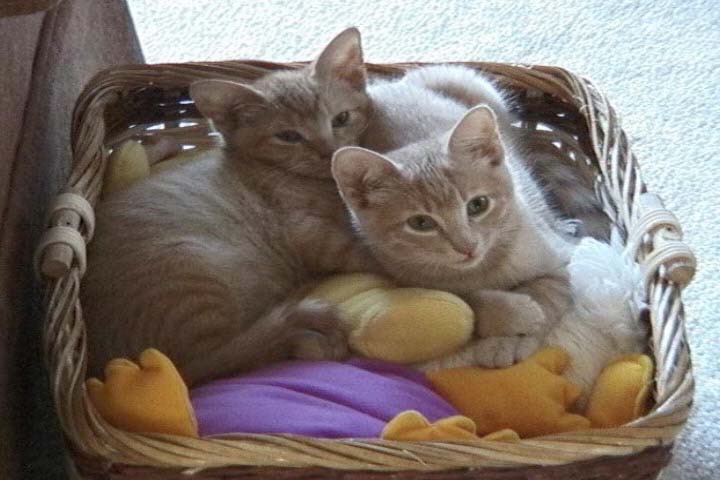 We calculated the kittens were born May 27, 2002. I wanted the pure white kitten, but she suddenly died four days later. One little tan kitten had a bad heart murmur, and Dr. Meiner wanted to put him down. He said it would be for the best. I couldn't do it. We found homes for two of the male kittens, and no one seemed to want the little heart murmur guy. I said we'd take the one female tan kitty, and we named her Cassie. The "her" turned out to be a "he," so we changed the name to Casey. We kept Sir Richard; the heart murmur kitten. (I think most people know the story of the kittens. At least at Douglas, they did.) Eventually, Sir Richard's name was changed. Gary, a friend, came up with Cedric, so that is what we named him. Cedric Allen Spoolman. I couldn't think of a middle name for Casey, so we just called him Casey Allen Spoolman.
With Cedric, we had more hospital bills than any pet of ours. His vet didn't think he would live for two weeks, but as each year passed he surprised us all. He was limited to "catching" mice his brother, Casey, brought home. He purred all the time. I had read an article once that talked about cats who had a loud decibel purr, and when their purr was in a certain range; they were trying to heal themselves. Cedric was the first to go potty in the litter box. He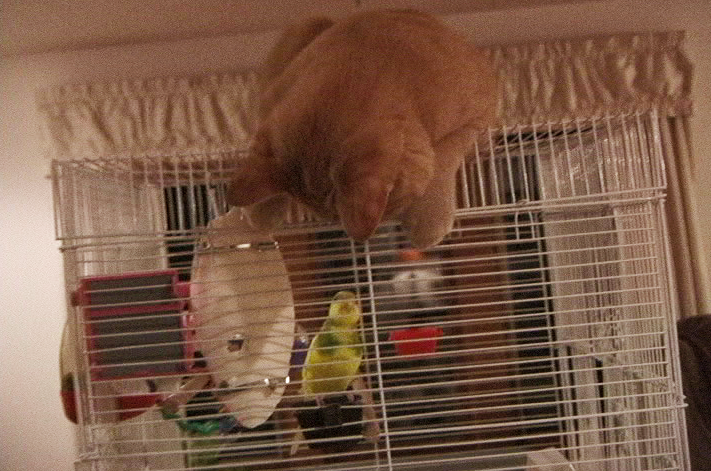 was an unusual cat, to say the least. Every two weeks or so I would go in to have the vet pull the fluid from Cedric's lungs. The first three or four times, Dr. M said it would be best to put this little guy down. I cried every time so he finally quit suggesting it. It was as if Cedric knew he was limited to certain activities and he slept more than his brother, Casey. One late Friday night, when he was about a year old, he ripped open his herniated belly button. The vet at Mountain View was on call so we rushed him in. They could only give the little guy laughing gas because of his heart, and the Dr. wasn't sure she could save him. She would also neuter him if she could. This little guy survived!
Our Cedric loved to jump up on top of the bird cage, and Tweetie would peck at his feet. It was hilarious. She wasn't afraid of him at all. He would sit on the cat scratching post and watch her continually.
I had been worried that Callie would harm the kittens, but she actually mothered them.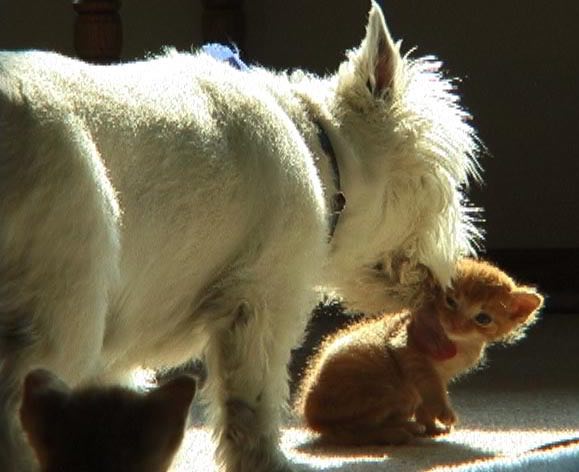 She would lick and clean them every day. What a beautiful site to see another animal nurturing these little motherless kittens. By this time, Callie was getting up there in age, and she was beginning to slow down.
We will never know what happened. I was backing out of the garage, and she must have been sleeping in the hot sun in the driveway. I felt the bump and then looked around, and she must have dragged herself up to the garage door opening. I ran screaming after Rick as he was mowing the lawn. Maybe she'd already had a heart attack or something. I don't know. I can never understand why she hadn't moved, and that I did not see her. It was a terribly sad time. I was devastated!! I still miss her. She died May 15, 2004. It is hard to believe that was 14 years ago. It seems as if it were yesterday.
Katie was lost without her best friend, Callie. She had never been without a companion. We went to Arizona to visit our daughter and family two weeks after Callie died, and we took Katie with us. We had planned to leave them at Black Hills Animal Hospital, in the kennel, but we couldn't do that to Katie once Callie was gone. Rick and Joey, our grandson, actually went to a pet store to see if they had another Westie. Sure, they had one for $750! No thank you!
One morning, about three days after we were home from AZ, Rick called to say he found an ad in the paper and there was a Westie female puppy for sale up near Sturgis. He wanted to go and get her right then. I asked him to wait until I got home from work, and we'd go together. He thought she would be gone by then, so he called the lady and said we'd be there after I got off work, and we would take her.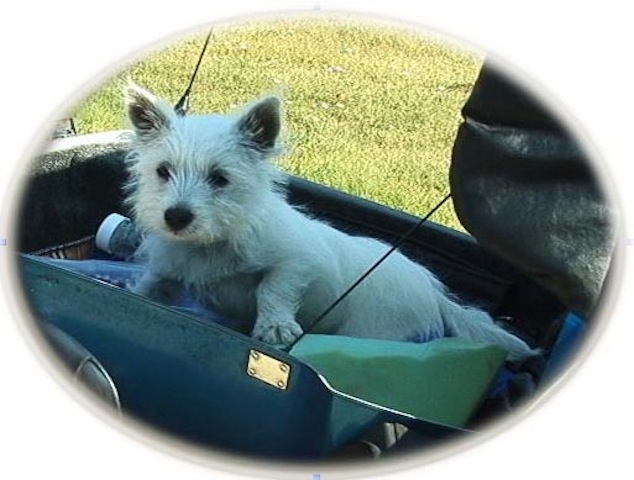 Enter Cassandra Lynne Spoolman (Cassie for short) to the Spoolman Pet Haven. She was born April 28, 2004. Oh… this little puppy surpassed all of our dogs. She was a spit-fire, and she knew who was boss. She was also the runt of the litter. Casey and Cedric didn't quite know what to make of this little bundle of joy. (More like terror of joy!) Cedric would cautiously look out from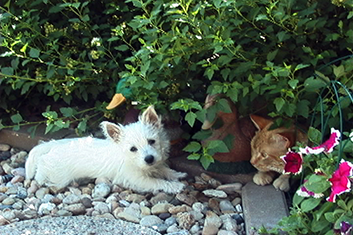 under a bush as she'd pounce on him, and off he would run. Casey totally ignored her, but Cedric would run whenever she came around. Cassie was continually chasing him when he came through the dog door. Surprisingly, neither cat spit or hissed at her, nor did they ever scratch her with their claws.