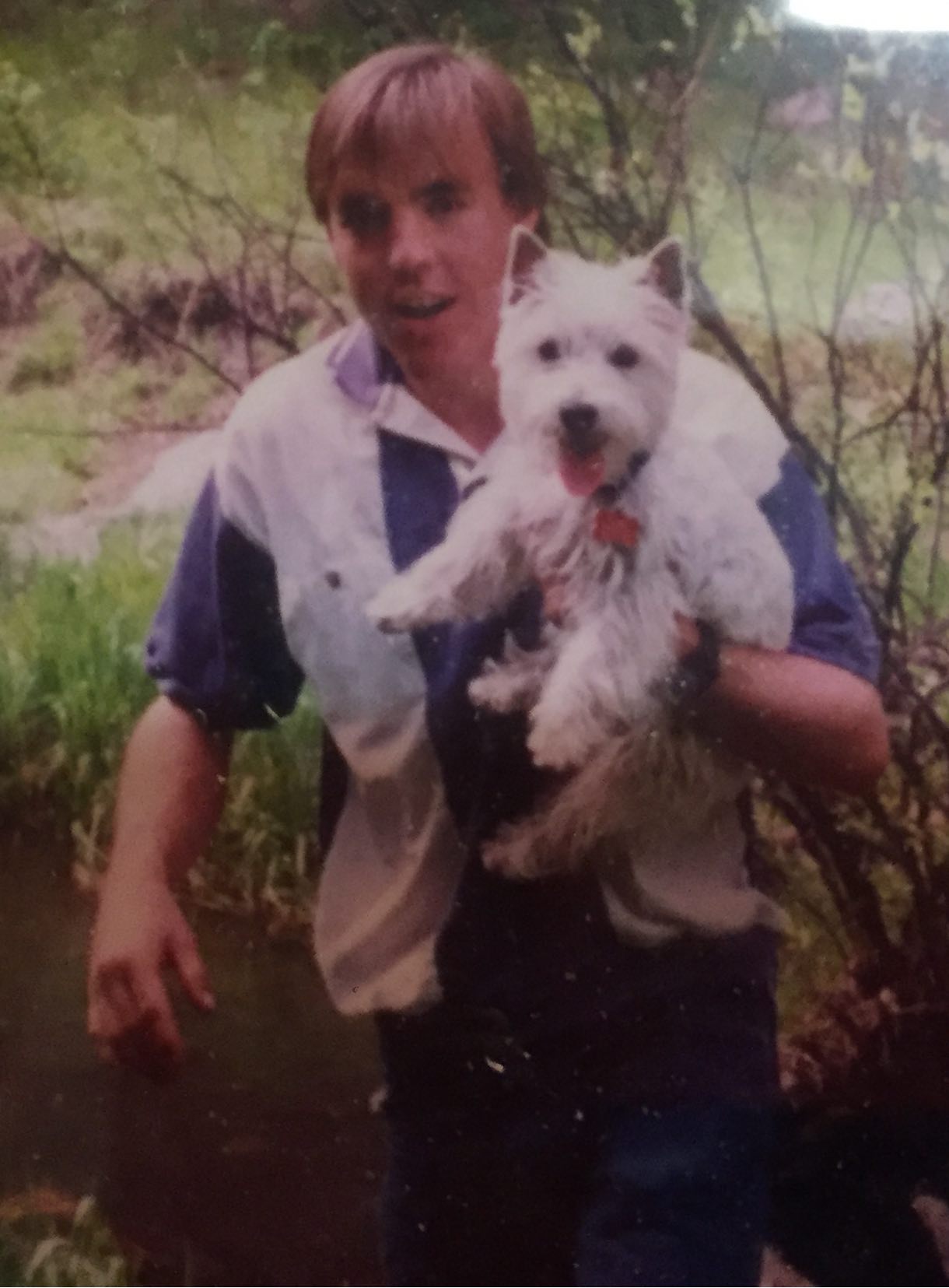 I will never forget that sight when I walked into this "garage." I wish I could have taken them all. Here, on two saw horses, sat a large cage with two semi-white puppies in it. The owner said one was a female and the other a male, and I could take both; for a price, of course. I wish I could have. I asked how old they were, and he said they were 10 weeks. We gleaned from him that the dogs had never been outdoors. That meant they lived in that cage for 10 weeks where they pooped and peed through the bottom of the cage. I was not happy. I had to rescue that poor little female puppy. At that price, I could not take two! For the second time in my life, I did what I said I would never do, and paid money for this little West Highland Terrier. (Katie is on the left, Callie is on the right.)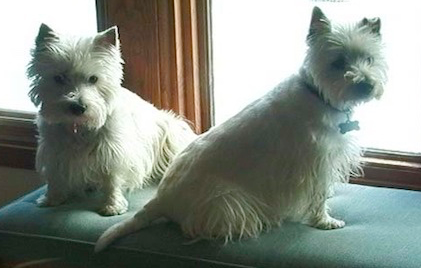 I looked over at some cages against the wall and noticed several dogs. I pointed to one and said, "What kind of dog is that?" The owner's comment was, "That's the mother of these two." I was shocked. The dog was yellow, not white!
We took the female puppy out to our car, and I sat with her in the back seat so Callie could check her out. That poor little puppy was petrified. I doubt she had ever been held, and she literally clung to my chest. She smelled terrible, but I kept talking to her in a calm voice. She would not let me put her down so I climbed in the front seat and we took off for home. She stayed on my lap the entire ride home. Once we go home she had her first bath.
What we had just witnessed was a puppy mill. I was sick to my stomach over it, and I did tell someone who reported them.
We named Callie's new companion, Katlyn Renae Spoolman (Katie for short). She was born on November 20, 1998. These two were inseparable. They loved to chase one another around the living room and play all day. Unfortunately, Katie could not hold her bladder for very long, never sleeping throughout the night without having to go outside. We kept her in a cage during the day and our neighbor, Dick, would come over every day and let her outdoors to go to the bathroom. Eventually, we put in a dog door and taught the girls to go in and out the dog door. Katie didn't really like it, but she finally got used to it.
Callie was the dominant dog, while Katie was quiet. Every single night, Katie would wake Rick up to go to the bathroom. She never woke me, for whatever reason.
On June 5, 1999 Chipper died. Why do we always think the pets have to have a companion?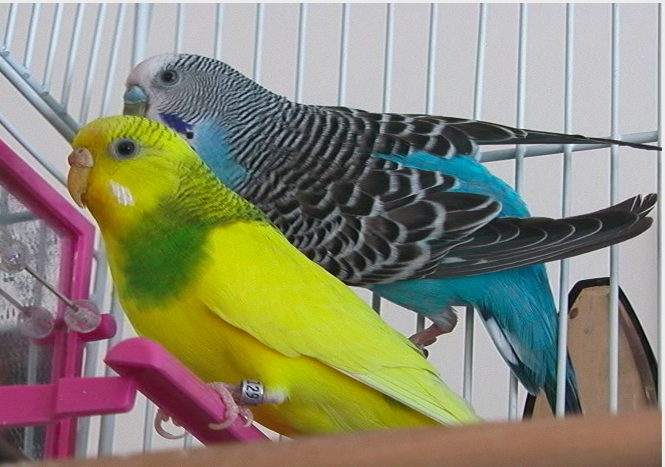 I didn't want to see Blue all alone, so about 4 weeks later I trek on down to the pet store and buy another parakeet. We named her Tweetie. She was born April 25, 1999 and died October 6, 2008.
We had a large cage for them, and they would sit out in the living room and chatter away to one another. I loved the chirping of the two parakeets. They never really talked like some parakeets do as we did not train them.
For some time, we settled in and there were no more pets. Then in June of 2002 we took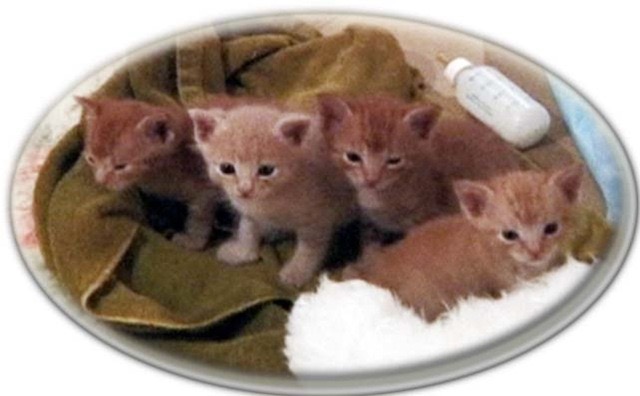 in five little kittens. Their eyes were barely opened. Juanita had found them under her porch steps. Their mom had been killed by a dog. A friend, Barb, took them home the first night. The next night I took them home. During the day I would take them to work with me and everyone helped bottle feed them during our lunch hour and breaks. The same night I brought the kittens home, I found Blue had died. He died June 4, 2002.