Wednesday morning we packed up and headed for the lake. It looks the same as it always did. The picture below was taken the day we left, so was not as sunny.

Rick and I turned and there was Bob waiting for us. Once we unpacked Bob and I had to have coffee together. (it had been 3 years since I had seen Bob!)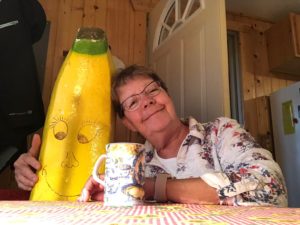 That night we went to our favorite place: What The Heck It has the BEST pizza! Without a picture, you just cannot imagine it! We got the House Special, which was Dad Spoolman's favorite.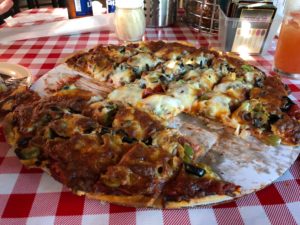 For awhile there What The Heck struggled with getting it "right", but this new owner seems to have the pizza the same as it was years ago. We actually went there the last night at the cabin so we could bring some home some for Corey to try.
That night we didn't have a fire, but Rick did capture the awesome sunset!
Thursday, August 23rd, we headed into Spooner to pick up a trail pass for the RZR. Of course, there are antique stores on the main street in Spooner; plus the fact I always have to go to the Purple Pelican. The awesome artwork and colorful items are my drawing point.
At the 2nd antique store we went into I could not believe I found a Canton Woodsware (circa 1917) Blue Willow plate. I picked it up immediately. I didn't have one of those in my collection!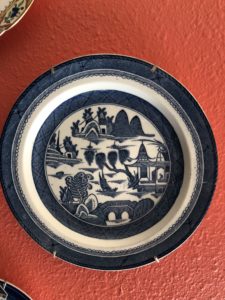 Then on to another antique store where I saw this neat table and thought it be just right to replace the table of Mom's we took to Kerry in March. I needed something for my Blue Willow wash Pitcher and Bowl set. I wanted Corey to make one, but we just hadn't come up with the type of wood I wanted. Oh well… best not spend the money on this one now. Although it cost the same, or less, than what I wanted Corey to do.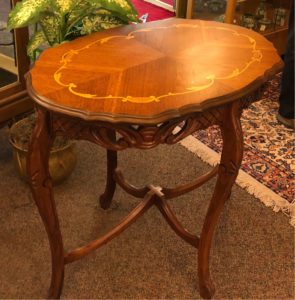 On to the Purple Pelican where I managed to fall flat on my face because I was looking at all the colorful artwork and things, instead of watching my step and noticing the high threshold going into the store. After that Rick made me use my cane! Needless to say, I didn't feel like browsing after that. It was time to go home.
Rose and John came that afternoon. We had a good visit and they left early. We had a small fire, but everyone seems to peter out earlier these days. hmmm… wonder why?
Friday, the rest of the gang came straggling in. As we were all sitting outside, I looked over and saw this huge woodpecker! As I kid I grew up seeing and hearing woodpeckers all the time, but never had I seen a Pileated Woodpecker! It was huge! I got my iPhone out and quickly went over as close as I could and started taking pictures. It was awesome.
Here is a movie of the Pileated Woodpecker:
It was McKenzie Landing fish fry so we didn't have to cook that night. After dinner we all came back to sit around the fire. Rick brought wood scraps from home and got old branches from the woods. Plus, Tim gave him a couple logs of walnut.
Saturday, the 25th, we woke up to fog surrounding the lake. I don't think I've ever seen it so thick. It really was kind of eerie.
Mike, Ame, Rick and I went over to JoMamma's for breakfast. Scott, Gail, Will and Katie, and Rose and John came in a few minutes later. They do have the good ol' greasy eggs, and my favorite crispy, hash brown potatoes.
One of my sister-in-laws did her "spoon on the nose" thing. Cute! No one else can even do it!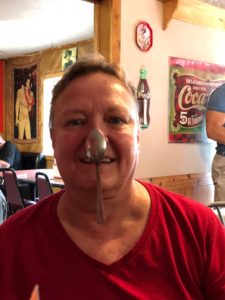 About the time we got back to the cabin, Chad arrives with his two little angels. I had not seen Betty since she was a little one. I had never met Isla. The first thing they did was put on prevention cream (The Itch) and go swimming.
We were laughing about something and all of a sudden Isla lets everyone know:
"I'm a lady!" You tried not to laugh, but what a hoot she is!
Then, come to find out, Betty LOVES spiders (something I am deathly afraid of!) Yep… Betty takes after her father, that is for sure.
A little later on in the day (when everyone else went for naps) Rick and I took a ride on one of the legal roads/trails. Of course, to get the .06 miles to the road, we had to go illegally. Rules there are if you are in a neighborhood you have to drive 10 MPH. That is fine and we abide by it. However, when a truck hauling logs comes barreling down upon you… it's a bit nerve-wracking. Nevertheless, we went. More on that later.
Saturday was our big cookout. We had excellent hamburgers and beer brats, thanks to Chef Scott. Plus a bunch of other goodies. Not sure how Scott got elected Chef, since usually it is the host who grills. I think he had a hand in it, but too many chefs do not go over too well. (Rick stayed far away.)
John and Rose were going to go to their place and take naps and Chad was shooting off fireworks with the girls. The rest of us went for a pontoon ride.
Amy was Captain Navigator, however, you can see by the one who is pointing, who was the boss and instructing Amy to watch for loons, ducks, floating Bobs, and the great beached whale.
We had a beautiful sunset.
We were entertained by the seagulls.
On the way back to the dock there was a cool shot of the moon.
Here are some loons; one with baby on its back. Wish they would have called out. Love the call of the loon.
Once we docked, everyone gathered for the last fire. Many would leave for home the next day.